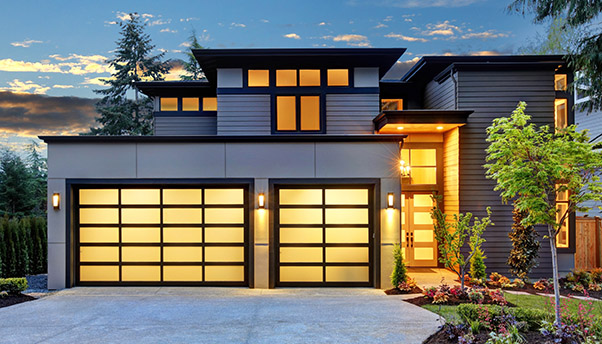 Improve Your Home's Curb Appeal With A New Garage Door!
Ah, garage doors. Nothing else in your home combines functionality and style in such a unique way. It's more than just a portal for your car or place to enter your home; it's a chance to make your home pop to all passerby. With one simple upgrade, you can transform your house from drab to fab in no time. Let's dive in to find out all the advantages and benefits of upgrading your garage door and how it can truly improve your home's curb appeal.
 A New Garage Door Is An Instant Facelift
When you pull up to your home, do you want to be met by an old, faded, falling-apart garage door or a stunning garage door that compliments your home's architectural design? We bet it's the latter. An upgraded garage door gives your home a whole new look, making it the envy of the neighborhood. With so many styles, materials and colors to choose from, you can find the perfect door for your home, whether you're looking for something sleek and modern or more rustic and old-school.
It Improves Your Home's Value, Too
A new garage door is about more than just looks. Real estate experts state that a garage door gives you a high return on investment - in fact, it will significantly increase what you're able to ask for your home if you're looking to sell. Since garage doors are often the first thing people see when they look at a home, if yours is quite a looker it will help sell people on the idea of purchasing your home. 
You'll Have Better Home Security
Better curb appeal is great, but a new garage door will also improve your home's security. An older door could be weak and vulnerable to break-ins; an upgraded door will not only be made of sturdier materials, but will have the latest and greatest in locking systems and sensors to give your family an extra layer of protection. That translates to priceless peace of mind.
Enjoy A Boost In Energy Efficiency
Oh, you didn't realize your garage door affects your home's energy efficiency? It's true. Older doors may not have the proper level of insulation, letting warm (or cool) air escape when it's supposed to stay inside your home. Plus, that lack of insulation goes both ways, so whether it's blazing hot or chillingly cold outside, those temperatures will creep into your home. A new energy-efficient door will have modern weather seals and insulation materials to help you keep a comfortable temperature all year long.
It Won't Make As Much Racket
Does your garage door sound like a wounded pterodactyl when it goes up or down? Nothing like having that wake you up when your kid gets home from their movie date. An upgraded garage door with a more advanced garage door opener can significantly reduce the operating noise and provide you a more peaceful living environment. 
Let All American Door Find You The Perfect Upgrade For Your Minneapolis, MN Home
Now that you know all the advantages and benefits of upgrading your garage door - what are you waiting for? All this plus a gorgeous new look for your home - if that's not the definition of win-win, we're not sure what is. Reach out to us online or give us a call at (763) 244–1605 and let our experts help you along the road to transforming your home for the better!