Residential Garage Doors
A Wide Range of Styles For Your Minneapolis-Saint Paul Home
Garages can make up as much as 40 percent of a home's surface, which is why it's important to choose a door that blends in well with the rest of your home's exterior. Aside from appearance, ideal residential garage doors should provide the stability and durability needed to resist structural damage caused by accidents or severe weather conditions.
All American Door Co. provides a number of quality units for every need. We serve residents throughout Minneapolis and nearby areas. Call us today for a beautiful, functional garage door for your home!
What are the best brands of garage doors?
The best brands of garage doors near Minneapolis to install include:
Clopay 
Timberland 
Forest Bay
Garage doors are an important asset to your home especially when considering the following factors:
Aesthetics

- Curb appeal is important to your home, especially when it goes on the market. Sometimes a few extra details can make all the difference.

Quality

- A garage door should be well insulated to protect your home against the elements.

Durability

- You want a garage door to function and look nice for a long time. 
What is the average cost of a new garage door?
The average cost of having a new garage door installed ranges in price between $700 - $1,400, including parts and labor in and around Minneapolis. The average cost is around $1,000. If you are replacing a garage door and not installing new, using the old opener and rails could help lower the final cost. 
How much does an ideal garage door weigh?
The ideal garage door weighs 130 pounds. Garage doors have different weights depending on the material from which they are made and their size, depending on if they are single or double sized.  
The more the door weighs, the more pressure placed on the counterweight system. A wooden door weighs more than an aluminum door, and therefore makes the opener work harder to open and shut. A heavier door could cause the system more strain and ultimately shorten its lifespan. Large double garage doors with windows can weigh up to 400 pounds, for example, and put a lot of pressure on the system. Aluminum doors, while weighing less than wooden doors, might have openers that last longer. However, lighter doors are more likely to be dented and damaged, having to be replaced more often. 
We Specialize In North Central Door Company Garage Doors
The primary garage door manufacturer we install is North Central Door Company. North Central Door offers a wide range of options, and even has a "Door Designer" tool that lets you custom-design one of their doors to match your home. Here are the major styles they offer:

The Aspen Ridge Series blends the timeless look of a carriage house design with the durability of our contemporary steel panel doors. Available in a recessed panel for out three-layer thermal doors, or raised grooved panel for our one or two-layer pan door, you can customize the look of your Aspen Ridge door further with optional decorative windows and hardware. With several colors to choose from, you can count on a unique look that is customized to your tastes.

The Timberland Collection offers a wide variety of styles, colors and window options that allow you to complement your home's architectural style with a look that is your own. These 2" heavy-duty steel doors provide durability, along with the efficiency of optional polystyrene insulation to deliver exceptional value and long-lasting beauty.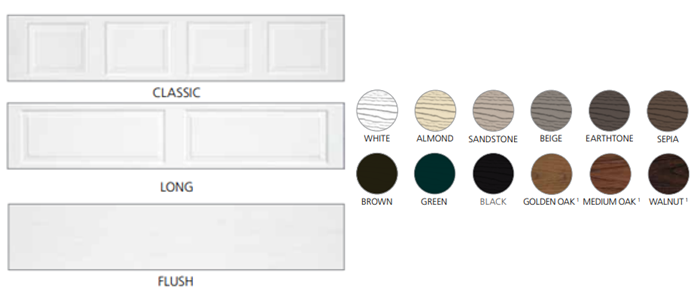 The Forest Bay Collection of insulated thermal doors combines the stylish appearance of wood grained embossment with the rugged durability of heavy gauge steel thermally bonded to dense polystyrene insulation. This collection delivers thermal efficiency available in three door thicknesses – 1 3/8", 2" and 3", while offering a full range of colors and window options. Strength and beauty come together in one package tailor made to fit your tastes!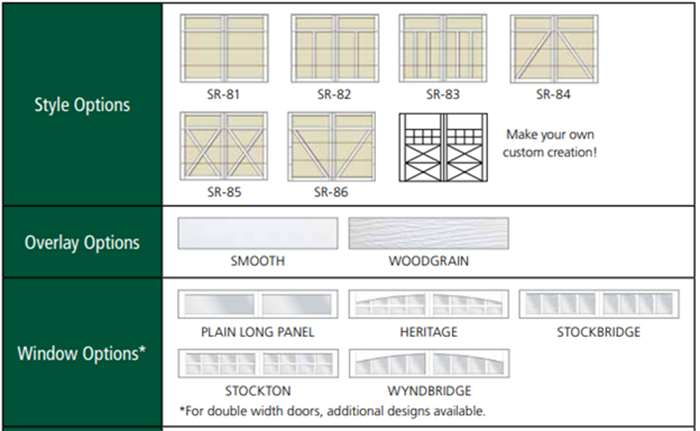 The Special Reserve series takes the timeless beauty of carriage house garage doors and combine it with the latest in design engineering to create a door that will be as durable as it is beautiful. With six distinctive styles, nine classic colors and your choice of windows, you'll be able to create the perfect look to complement your home's architectural style and make it uniquely yours.
Aspen Ridge - Custom Ridge Series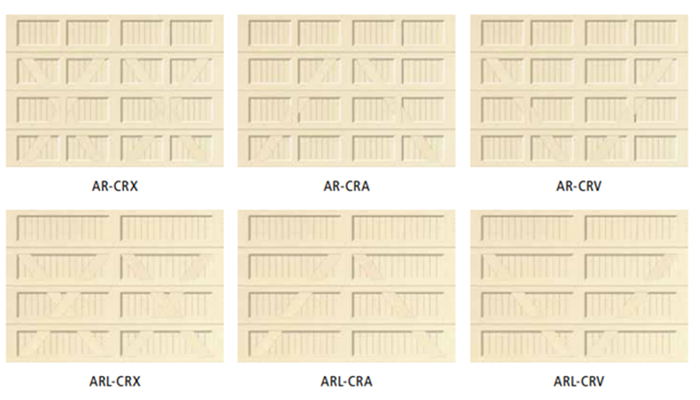 A classy addition to our Aspen Ridge line, the Custom Ridge door brings a flair of elegance and curb appeal to any home. Hand-crafted inlays are matched with any of our fine classic or bi-directional color options to create that timeless carriage-house charm. Reflect your personal style with six distinctive designs to choose from, decorative hardware and window options. With this level of craft and customization, you'll own a door like no other in the neighborhood.
The Options Don't Stop There
If you are looking for a garage door with a higher R-value, we also offer garage doors with a polyurethane insulation from HAAS Door. Ultimately, our experts main goal is to help you choose the door that will not only be properly functional but perfectly compliment your home's look. To schedule a free onsite estimate and get started on your new garage door installation, contact the All American Door Company at (763) 244–1605 today!