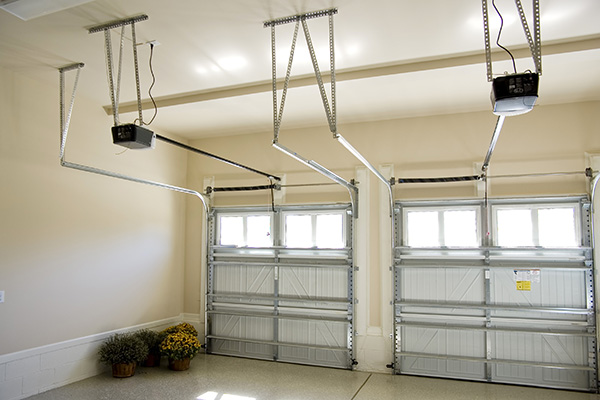 Garage Door Opener Features and Accessories
When buying a garage door opener you are going to want to find the right one, with the right features and accessories to fit your needs. Also, you will will want to look at the safety features of the garage door you are choosing. First, let's start with what kind of garage door you are looking for. When choosing a garage door opener, ask yourself what kind of garage door opener do you prefer, as there are several options. Next, decide how important the noise level is to you, and the opening speed of the door. Do you want a lot of safety features? If you do, which ones are essential to you. Many garage door openers have remote access features if you like, and are something to consider, as well any special options that may be provided by the manufacturer.
There are several different types of garage door openers, one of which is the chain-drive opener. This opener is a chain attached to a metal trolley which opens the door and they are the most common. The next kind of opener, is a screw-drive opener. Screw-drive openers generally have less moving parts, and use a threaded steel rod to raise and lower the door. They also run more quietly when properly lubricated. The last option are belt-drive openers. These openers use a system of rubber belts to open the door which eliminates any metal on metal contact. These openers make the least amount of noise.
Many openers, have the manual emergency release, which is absolutely essential if your home loses power and you need to get out. This will allow you to manually open up the garage door by detaching it from the opener. Another feature that many garage door openers have, are lights. These lights can be on a fixed timer or a manually be turned on and off. This is a great feature seeing as you will not have to stumble around in the dark looking for a light switch.
Having a force guard control on your opener, is a safety enhancement that allows you to select how much force is needed to fully open or close your garage door. This is great if you have small children and do not want them to accidentally open up the garage door and hurt themselves. Another safety feature, is the vacation setting, that will disable the opener while you are on vacation, thus limiting any intruders from entering your garage. Having a battery backup is in another important safety feature, and can be critical when the power is lost your home and your outside. Having a battery backup will allow you to enter through your garage when the power has been knocked out.
So in closing, when choosing an opener be sure to examine all the available features and what door is best suited for you!
Looking for garage door services? Call All American Door Co. today at (763) 244–1605 for top-notch services!